Secularism and its place in the modern world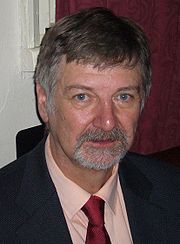 Terry Sanderson asks if a secular world would be a better place to live in?
There is a lot of confusion about the meaning of the world 'secularism'. Is it atheism? Is it anti-religious? Is it a political ideal or a philosophical concept? Is it desirable or undesirable? The confusion is understandable as the war between religious extremism and the defenders of the secular state hots up. There is misrepresentation and propaganda on both side.
Terry Sanderson tries to to cut through the tangle of conflicting definitions and come up with a modern concept of secularism, and discover whether the world would be a better place if secularism were the norm."
Terry Sanderson is a journalist and author; he is President of the National Secular Society.
Terry has a lighter side as a comedy film buff - do come along to Rib Ticklers (Tickets £5 in advance from 0116 241 8747) at 2:30
Speaker(s):

Date and Time:

22 March 2009 at 6:30 pm

Duration:


2 hours

Venue:


Leicester Secular Society
Secular Hall
75 Humberstone Gate
Leicester
LE1 1WB
0116 292 1964
http://www.leicestersecularsociety.org.uk/

More at Leicester Secular Society...

Tickets:

Free

Available from:

Additional Information:

Except where stated, all meetings are free (a collection will be taken), open to the general public, and held at Secular Hall on Sundays at 6:30pm. If a lecture is cancelled a discussion meeting will be held instead, on topics proposed by those present.
Register to tell a friend about this lecture.
Comments
If you would like to comment about this lecture, please register here.