The Triple Goddess: Her History, Ancient and Modern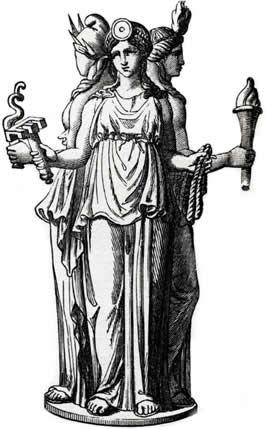 By the time you leave, you will know why and how the triple goddess lived, and lives again.
When is the earliest appearance of the threefold goddess in history? What does it mean to modern pagans who speak of the Moon, and the Goddess of Nature as 'Maiden, Mother and Crone'? Why should you sing the praises of a Cambridge scholar named Jane Ellen Harrison? Prudence Jones answers these questions and more, in a lively scholarly talk. By the time you leave, you will know why and how the triple goddess lived, and lives again.
Prudence Jones is a writer and commentator on the Pagan traditions of Europe and associated spiritual systems. A History of Pagan Europe, co-written with Nigel Pennick, is a standard textbook in the field. Beginning as an academic philosopher at Cambridge, Prudence later taught there and at the University of Alberta, where her research was in ancient and mediaeval logic. Her interest in other esoteric systems, particularly astrology and Wicca. She is a past President of the Pagan Federation and a past Chair of the Association of Professional Astrologers. She has also contributed to many journals and essay collections over the past three decades.
Speaker(s):

Prudence Jones | talks


Date and Time:

16 April 2009 at 7:15 pm

Duration:


2 hours

Venue:


Treadwell's Books
33 Store Street
Bloomsbury
London
WC1E 7BS
020 7419 8507
http://www.treadwells-london.com/

More at Treadwell's Books...

Tickets:

£5

Available from:

Reserve your place via Treadwell's by email (info@treadwells-london.com), or by phone, 020 7240 8906. Payment confirms booking.

Additional Information:

Treadwell's hosts courses and workshops taught by most experienced and gifted practitioners we know -- tutors who are not only advanced in their subjects but are also able to consider their practices thoughtfully and critically. Our aim is to make the study of esoteric disciplines available to thinking, well-read enquirers. You can also get events updates via an RSS Feed (http://www.treadwells-london.com/events.php). We have an archive of past courses (http://www.treadwells-london.com/coursespast.asp), and you can also subscribe to our mailing list (http://www.treadwells-london.com/mailinglist.php).
Register to tell a friend about this lecture.
Comments
If you would like to comment about this lecture, please register here.