India and the UK-Japan Dialogue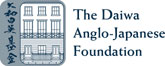 This Seminar looks to the UK and Japan and their bilateral relations with India. www.dajf.org.uk/booking
Exchange between Japan and India can be traced back to the introduction of Buddhism in the sixth century AD while Britain's past relationship with the Indian subcontinent was born of trade and commercial links. Out of very different and distinct historical contexts, both countries have developed strategic partnerships that centre on trade and investment, scientific and technical collaboration, energy and climate change and a convergence of political and economic interests.
Register to tell a friend about this lecture.
Comments
If you would like to comment about this lecture, please register here.