The Transformation of the Japanese Left: From Old Socialists to New Democrats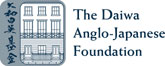 Launch of the above titled book by Routledge, including a talk by the author Dr Sarah Hyde and Dr Alan Renwick.
The Transformation of the Japanese Left examines the transition within the Japanese party system that has seen the demise of 'the old socialists', the Japan Socialist Party, and in its place, the emergence of the Democratic Party of Japan as the leading opposition party. Sarah Hyde has produced an original book which looks at the intra-left (non-communist) opposition party manoeuvrings during the 1990s through to the new millennium in a highly detailed and focused manner whilst simultaneously looking at the three most significant changes for the left nationally: the change to the electoral system, the change to public opinion regarding defence and the Constitution after the First Gulf War and the changes to the Labour Union movement. It finishes with a case study of Okayama Prefecture and comprehensive analysis of how the transformation took place in one part of Japan.
Register to tell a friend about this lecture.
Comments
If you would like to comment about this lecture, please register here.