A Sense of Balance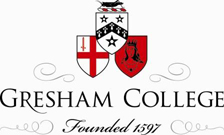 The everyday maths of balance.
Why do tightrope walkers always carry long poles? What is the difference between weight and inertia? We take a look at balance and stability, from gymnastics and spinning racquets to the rescue of the International Space Station set spinning by a potentially disastrous collision with its docking vehicle.
http://www.gresham.ac.uk/event.asp?PageId=45&EventId=952
Register to tell a friend about this lecture.
Comments
If you would like to comment about this lecture, please register here.