JCC Opinion Soup: Can we restore our faith in Government and Politics?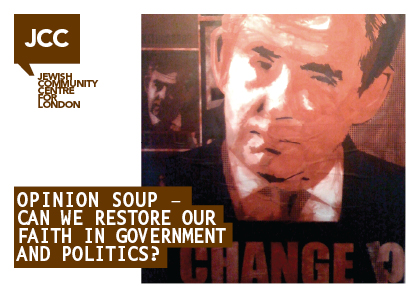 The last European elections saw the lowest voter turnout in history. The state of the economy, the expenses scandal, the ongoing wars in Iraq and Afghanistan, the state of public services – all have led to wide-scale disillusionment with politics and government and to the election of the BNP to the European Parliament.
How did we get to this point and what can we do to restore our faith in British Democracy?
Panel:
David Cohen is an award-winning British and South African journalist who has written for The Independent, The Guardian, The Financial Times, and British GQ, as well as for The New York Times. He has been a Senior feature writer on the Evening Standard since 2002.
Mark Field MP takes a special interest in economic matters, foreign trade and international development, and is currently Chairman of the All-Party Group on Business Services. Since mid-2008 he has been Acting Chairman of the All-Party Venture Capital and Private Equity Group.
Margaret Hodge MP is currently Minister of State for Culture, Media & Tourism. She was appointed Britain's first Minister for Children in 2003 and has held ministerial offices in the Department for Education and Skills, the Department of Work and Pensions and the Department of Trade and Industry.
Baroness Neuberger DBE has been a member of the Committee on Standards in Public Life, and was the Prime Minister's Champion for Volunteering from 2007 until June 2009. She has recently been appointed by the Lord Chancellor as Chair of an Advisory Panel on Judicial Diversity.
Jon Sopel (Chair) is a leading television presenter and correspondent for the BBC. He presents The Politics Show on BBC One and is one of the lead presenters on the BBC News Channel. In 2007 he was voted Political Journalist of the Year by the public affairs industry.
Supported by Bank Hapoalim
To Book: http://www.jcclondon.org.uk/Books_Opinion_Soup.html
Register to tell a friend about this lecture.
Comments
If you would like to comment about this lecture, please register here.