Movers & Shapers: Japan - UK Relations Seminar Series VIII - Minakata Kumagusu by Prof Ryug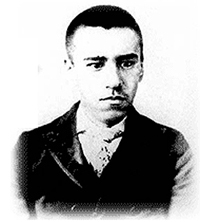 A lecture on the maverick scholar and naturalist Minakata Kumagusu, focusing on his eight years in London.
MINAKATA Kumagusu (1867-1941) was born in Wakayama and lived in London from 1892 to 1900 after his five year stay in the US and Cuba. He was quite active in the academic society here, making friends with many of the leading scholars of the period, while studying in the reading room of the British Museum. He contributed 374 English essays in his lifetime, on the folklore and natural history to Nature and Notes and Queries published in London. Although Kumagusu worked solely in Tanabe, Wakayama, relatively separated from the mainstream of the Japanese academics in the latter half of his life, he is now regarded as a pioneer of comparative folklore studies, religious studies, history of science, as well as conservation of nature which he initiated based on his ecological research of the natural forests of the region. Such achievements of his are actually all deeply rooted in the academic influences he received in London. This lecture explains the unique life and thought of Kumagusu, focusing on his London days.
Ryugo Matsui, is an associate professor in the Faculty of Intercultural Studies at Ryukoku University, Japan. He has been researching the archives and relevant materials of Minakata Kumagusu Minakata for twenty years, not only in his former residence in Tanabe but in the UK and the US. He is the author of Minakata Kumagusu Issaichi no Yume (1991), Kumagusu no Mori (2005) and several other books on Kumagusu.
Speaker(s):

Prof Ryugo Matsui | talks


Date and Time:

10 December 2009 at 6:30 pm

Duration:


2 hours 30 minutes

Venue:


The Japan Foundation
Russell Square House
10-12 Russell Square
London
WC1B 5EH
020 7436 6695
http://www.jpf.org.uk

More at The Japan Foundation...

Tickets:

Free

Available from:

Additional Information:

This event is free to attend but booking is essential. To reserve a place, please email event@jpf.org.uk giving your name and the title of the event you would like to attend.
Register to tell a friend about this lecture.
Comments
If you would like to comment about this lecture, please register here.