Siphonophores: tangled tentacles or ocean predators?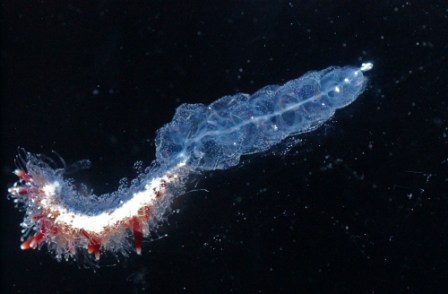 A fascinating insight to unique feeding strategies employed by siphonophores.
Siphonophores are complex, polymorphic hydrozoan cnidarians sometimes called 'string jellies'. They are extremely fragile and gelatinous, living offshore in deep water away from surface turbulence. Although stunningly beautiful in their natural habitat, siphonophores are difficult to study because when caught (especially by net) they break up into many small parts. After 20 years studying 'siphonophore pieces', Gill Mapstone FLS is beginning to appreciate the whole organism and hopes to impart something of the structure, distribution, lifestyle and habits in this talk. There are 170 known species and these show a wide range of diversity within the two traditional groups Physonectae and Calycophorae. Some of the chief contributors to our knowledge of siphonophores over the last two centuries, will also be mentioned, and the talk will conclude with a short summary of the latest advances in siphonophore research, including the first molecular work. It will be illustrated with photos, diagrams and movie clips, and hopefully convince you that siphonophores are not simply a mass of tangled tentacles, but as George Mackie and E.O. Wilson put it: "The achievement of siphonophores is one of the greatest in the history of evolution!"
Speaker(s):

Gill Mapstone FLS | talks


Date and Time:

18 March 2010 at 6:00 pm

Duration:


2 hours 30 minutes

Venue:


The Linnean Society of London
Burlington House
50 Piccadilly
London
W1J 0BF
0207 434 4479
http://www.linnean.org

More at The Linnean Society of London...

Tickets:

Free

Available from:

Additional Information:

Tea will be served in the Library from 5.30pm and the lecture will be followed by a wine reception.
Register to tell a friend about this lecture.
Comments
If you would like to comment about this lecture, please register here.