The Romantic Economist addresses the limits of knowledge in markets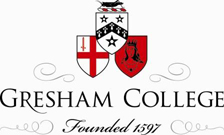 A lecture on the role and importance of information and belief within economic markets.
The relationship between theory and fact is particularly problematic when interpreting the complex, creative and socially-constructed world of markets. Â This lecture will explore how theories frame our vision and how prices and institutions transmit information, before examining the vital distinction between measurable risk and radical uncertainty.
For more information, please visit the event's page on our website:
http://www.gresham.ac.uk/event.asp?PageId=45&EventId=1021
Speaker(s):

Date and Time:

28 April 2010 at 6:00 pm

Duration:


1 hour

Venue:


Gresham College
Barnard's Inn Hall
Holborn
London
EC1N 2HH
+44 20 78 31 05 75
http://www.gresham.ac.uk

More at Gresham College...

Tickets:

Free

Available from:

Additional Information:

No reservations are required.
The event will be run on a "First come, first served" basis.
Register to tell a friend about this lecture.
Comments
If you would like to comment about this lecture, please register here.