Clement Attlee and the Founding of the Welfare State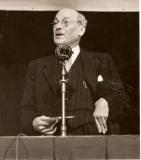 Francis Beckett talks about Clem Attlee with reference to his biography on him
Francis Beckett talks about Clem Attlee with reference to his biography on him. Attlee was a subtle and skilful political operator - swift, decisive, ruthless and cunning. Inspired by the squalor of the living conditions that he had seen in the East End of London, he was determined to put an end to poverty - with the result that his government revolutionised British society. The welfare state and the National Health Service were created, and money was found to build new schools and expand higher education - even at a time just after the Second World War when Britain was virtually bankrupt.
Francis Beckett is an author, journalist, broadcaster and contemporary historian. A good friend to the Marx Memorial Library, he is well known for his media work and for his columns in the Guardian. A major political biographer, he has written seminal studies of Attlee and Gordon Brown, together with histories of the Miners' Strike and the Communist Party.
Register to tell a friend about this lecture.
Comments
If you would like to comment about this lecture, please register here.