Some trace of her; archival traces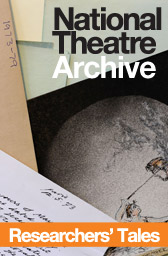 A discussion of the form of Katie Mitchell's production of Some trace of her... at the National Theatre
This talk will trace a research journey, focusing on the role of Nastasya in Katie Mitchell's ...some trace of her, through a discussion of the production's form and strcuture and the role of the audience. Drawing on archival material, Lamden will consider the relationship between rehearsal room and stage performance; examine particular aspects of ...some trace of her's stagecraft; and consider its place in relation to other productions.
Register to tell a friend about this lecture.
Comments
If you would like to comment about this lecture, please register here.