Cheltenham Festival of Science (Day 1 of 5)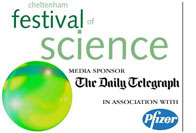 After the phenomenal success of the first two Festivals, this year's programme once again offers an exciting and challenging experience of science.
Visit the festival website for details of the many events taking place in Cheltenham from the 9th until the 13th of June.
Join us to explore our theme of perception in all its forms, from our experience of eating to the mysteries of the human brain, from animal consciousness to the secrets of body language.
The Festival brings you high-profile names and leading scientists including Guest Director Robert Winston, world-renowned perception expert Vilayanur Ramachandran, Michelin-starred chef Heston Blumenthal, Beagle 2 inventor Colin Pillinger, NASA astronaut Mark Kelly and childbirth expert Sheila Kitzinger. We are also pleased to welcome back some of the UK's best new science communicators, including Mark Lythgoe, Harry Witchel and Alice Roberts.
Register to tell a friend about this lecture.
Comments
If you would like to comment about this lecture, please register here.