TRANSPERSONAL HISTORY: TOWARDS A MAP OF A NEW COUNTRY - FOOTNOTES TO THE PERIODIC TABLE OF THE WORLD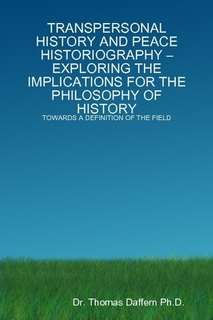 Genres of History -diplomatic, political, social, economic, gender, cultural, materialist, and transpersonal history
This special 2010-2011 course of lectures is being given by Dr. Thomas C Daffern, an academic specialist in interfaith research and comparative global philosophy. They will be followed by questions and discussion of the issues raised. The course is based partly on the unique Periodic Table of the World's Religious and Philosophical Traditions devised by Dr Daffern (www.thewisdompages.co.uk). The course is also based on Dr Daffern's doctoral thesis, entitled Toward a Transpersonal History of the Search for Peace 1945-2001.
Register to tell a friend about this lecture.
Comments
If you would like to comment about this lecture, please register here.