Midsummer Renaissance Festival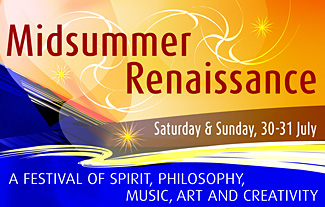 Summer's Most Original Festival: a celebration of Spirit, philosophy, music, art & creativity
This most original festival of the summer offers a fabulous mix of spiritual and philosophical dialogue, art, music and entertainment celebrating the uncharted heights of our human potential.

Featuring world-renowned speakers, scintillating conversation and dynamic artistic performances, this two-day festival is designed to enlighten, thrill and surprise, and to contain the seeds of a new awakening - a Renaissance of the Human Spirit.
Speaker events:
"What Is Enlightenment & What Is Evolutionary Enlightenment?" Andrew Cohen interviewed by Dr. Mike King
"Evolution - a Surprising Synthesis of Science and Spirit" Carter Phipps in dialogue with Michael Meacher MP
"Spiritual Transformation is not a Psychological Process" Chris Parish in dialogue with Thierry Vissac

"Women Creating the Future" Dr. Elizabeth Debold interviewed by Lee Chalmers

"The Future Evolution of Politics" Steve McIntosh in dialogue with John Bunzl

"Philosophy for Activists: Renaissance of the Real" Andrew Cohen in dialogue with philosopher Roy Bhaskar
"A Conversation on Cultural Evolution " Carter Phipps in dialogue with Steve McIntosh

"Discovering Fire for the Second Time: the Power and Promise of Evolutionary Spirituality" Dr. Elizabeth Debold in dialogue with Dr Ursula King
"Made by Culture: How We Became Who We Are " Chris Parish and Dr. Tom Steininger, moderated by Francis Sealey

"The Romantics: Head in the Clouds or True Revolutionaries?" Jeff Carreira & Linus Roache, moderated by Jon Freeman
Saturday 30th July 12:30 – 10:30pm & Sunday 31st July 10:30am to 7:30pm


Speaker(s):

Mr Andrew Cohen | talks | www
Dr. Mike King | talks
Mr Steve McIntosh | talks
Mr Chris Parish | talks | www
Dr. Elizabeth Debold | talks | www
Mr Roy Bhaskar | talks
Dr. Tom Steininger | talks
Mr Francis Sealey | talks
Mr Jeff Carreira | talks
Mr Linus Roache | talks
Mr Michael Meacher MP | talks
Professor Ursula King | talks | www
Mr Thierry Vissac | talks
Ms Lee Chalmers | talks
Mr John Bunzl | talks
Mr Jon Freeman | talks


Date and Time:

30 July 2011 at 12:30 pm

Duration:


Full Day

Venue:


EnlightenNext
13 Windsor Street
Islington
N1 8QG
020 7288 7000
http://www.EnlightenNext.org.uk

More at EnlightenNext...

Tickets:

Variable

Available from:

Please visit www.enlightennext.org.uk/midsummer and enter to win TWO FREE TICKETS

Additional Information:

www.enlightennext.org.uk/midsummer
Register to tell a friend about this lecture.
Comments
If you would like to comment about this lecture, please register here.