The Rage: The Vicious Circle of Islamist and Far Right Extremism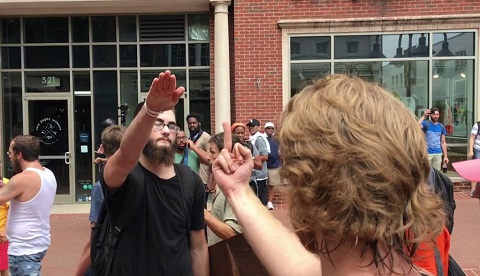 This talk explores the interaction between the far right and Islamist extremists and the consequences for the global terror threat.
Julia Ebner argues that far right and Islamist extremist narratives – 'The West is at war with Islam' and 'Muslims are at war with the West' – complement each other perfectly, making the two extremes rhetorical allies and building a spiralling torrent of hatred – 'The Rage'
By looking at extremist movements both online and offline, she shows how far right and Islamist extremists have succeeded in penetrating each other's echo chambers as a result of their mutually useful messages.
Based on firsthand interviews with extremists from both sides and mapping so called 'Geographies of Hate' – areas with high levels of Islamist and far right extremism – for the first time her book introduces readers to the world of reciprocal radicalisation and the hotbeds of extremism that have developed in the UK, Europe and the US, with potentially disastrous consequences for all.
Julia Ebner is a terrorism and extremism researcher based in London specialising in far-right extremism, reciprocal radicalisation and terrorism prevention initiatives. She is a Research Fellow at the Institute for Strategic Dialogue and a Global Fellow at the Project for the Study of the 21st Century. She spent two years working for the world's first counter-extremism organisation Quilliam, where she led research projects on terrorism prevention for the European Commission and the Kofi Annan Foundation and gave evidence to the Home Affairs Select Committee on far-right extremism. On the basis of her research, Julia advises parliamentary working groups, frontline workers and tech firms, speaks at international conferences and delivers workshops in schools and universities.
She regularly writes for the Guardian and the Independent and gives interviews in English, German and French on the BBC, CNN, ZDF, ARD, France24, Al Jazeera, LBC and others.
Her book, The Rage, will be available on the day.
Speaker(s):

Date and Time:

24 February 2019 at 3:00 pm

Duration:


1 hour 30 minutes

Venue:


Conway Hall Ethical Society
25 Red Lion Square
London
WC1R 4RL
020 7405 1818
http://https://conwayhall.org.uk/ethical-society/

More at Conway Hall Ethical Society...

Tickets:

£8 / £4 concessions

Available from:

https://www.eventbrite.co.uk/e/thinking-on-sunday-the-rage-the-vicious-circle-of-islamist-and-far-right-extremism-tickets-53247075436
Register to tell a friend about this lecture.
Comments
If you would like to comment about this lecture, please register here.