Lunarchy: The Original Human Economics of Time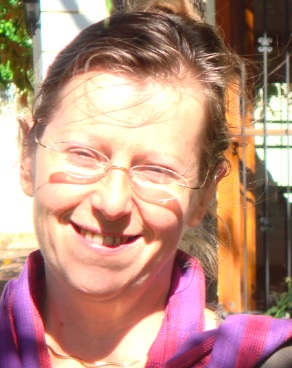 Exploration of lunar cycles, biological clocks, sexual politics, egalitarian societies, power, menstruation and transformation.
Scientific discourse rarely allows mention of the moon. The enlightenment's rational tradition drawing from its Christian heritage in male-only theological colleges had problems with two things: 1) women; 2) the moon. Apparent from 'lunatics', 'moonshine', and 'looney' figures as regular patriarchal putdowns. Yet the question of what made us human cannot be solved without a focus on women, the moon and menstruation. African hunter-gatherer cosmology takes the lunar cycle as the crucial timeframe for ritual, sex and economic activities. The shared sources of this cosmology carry us back to earliest human symbolic culture, the very origins of art and ritual itself, over 100,000 years ago. These hunter-gatherer societies are among the most gender egalitarian on earth. But how does such egalitarianism work? Women especially assert power through their bodies collectively to resist any threat of male exploitation. As the moon waxes and wanes, the dynamic of power switches in more or less playful battles between the sexes. No one rules but the moon. Could lunarchy offer us a way to transform our lives and reclaim our revolutionary heritage as humans?
Dr Camilla Power, Senior Lecturer in Anthropology, longtime member of Radical Anthropology Group and editor of Radical Anthropology, researches the origins of human symbolism, ritual, art and language. Her fieldwork has been with Hadza hunter-gatherers in Tanzania focused on gender ritual. She has published numerous articles on cosmetics and cosmology, hunter-gatherer initiation and rock art, and the Human Revolution. She would dearly like to put what she has learned into practice!
Speaker(s):

Date and Time:

26 March 2013 at 6:00 pm

Duration:


2 hours 30 minutes

Venue:


The October Gallery
24 Old Gloucester St
London
WC1N 3AL
020 7242 7367
http://www.octobergallery.co.uk

More at The October Gallery...

Tickets:

Entry £7 /£5 Concessions

Available from:

Please pay on the door

Additional Information:

Please RSVP on Facebook (afraid so) so that we can anticipate numbers - https://www.facebook.com/events/626006890749651/

Arrive 6pm for a 6:30pm Start - Wine available
Register to tell a friend about this lecture.
Comments
If you would like to comment about this lecture, please register here.