LSD in Britain: A Cultural History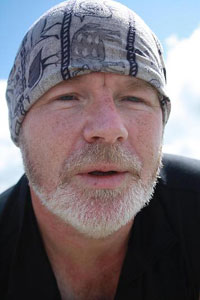 Andy's talk takes you on a historypicnic to sample everything from LSD´s arrival on these shores in 1952, through the medical and military experiments and Hofmann´s death.
Andy's book, Albion Dreaming: A popular history of LSD in Britain (Marshall Cavendish, 2008) was born from a desire to chronicle the history of this intriguing drug. Andy's talk, illustrated by powerpoint and DVD takes you on a historypicnic to sample everythingfrom the drug's arrival on these shores in 1952, through the medical and military experiments, the counterculture, to the sad death of Albert Hofmann. It is probably the only talk on LSD in which you'll hear the words of the Reverend Ian Paisley.
Andy Roberts is the author of several books on folklore, UFOs, cryptozoologyand popular culture. His overall interest is in the strangeness of the multiverse and what and why people choose to believe. Besides his books Andy has written for numerous magazines including Fortean Times, where he currently co-writes a monthly sceptical UFO column. His magazine articles have dealt with cults, the Grateful Dead and telepathy, the search for the Death Ray and a great deal of other weirdness. He once edited an Incredible String Band fanzine and is really quite obsessive about the Grateful Dead.
His interest in LSD stems from his first acid trip in 1971 when the ultimate force of evil foretold the future to him. He's still waiting for that particular future to manifest but followed the Prince of Darkness' strange invitation into the labyrinth of 1970s counter culture to see what he could find.
Speaker(s):

Andy Roberts | talks


Date and Time:

26 January 2010 at 6:00 pm

Duration:


1 hour 30 minutes

Venue:


The October Gallery
24 Old Gloucester St
London
WC1N 3AL
020 7242 7367
http://www.octobergallery.co.uk

More at The October Gallery...

Tickets:

Entry £7 /£5 Concessions

Available from:

Email rentals@octobergallery.co.uk or call 44 (0)20 7831 1618

Additional Information:

Arrive 6pm for a 6:30pm Start - Wine available
Please reserve your place as space is limited.
Register to tell a friend about this lecture.
Comments
If you would like to comment about this lecture, please register here.