The Daemonic Vulva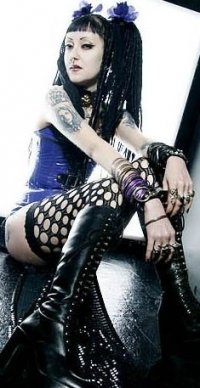 This talk will attempt to playfully involute demonic invocation and chaos magick through the patterning of female genitalia toward a queer feminist ethics of occultism
This talk will attempt to playfully involute demonic invocation and chaos magick through the patterning of female genitalia toward a queer feminist ethics of occultism. The vulva is threshold of internal and external, it is made up of more than one organ – clitoris, labia majora and minora, vagina, cervix, and the general perineal area – a pineal perinaeum if you like. The vulva is a conceptual gate, just like the gates through which we enter into unnatural worlds and interkingdom, interworld and interspirit alliances in enochian sex magick and necronomic chaos magick. Through ritual we can become vulvas – paradigmatically and conceptually. We can think and act like vulvas.
Like, and through chaos magick, becoming vulva is involuted and undone, creating a larval sexuality – immature and transformed at every synthesis, which acts not toward a thing but toward its metamorphosis, toward perceiving itself which cannot be perceived, toward the imperceptibility within repetition where all elements within syntheses are dissipated, disoriented and reoriented with each turn, each folding and each alteration in the aspects of involution. Vulvas and chaos offer infinity.
Dr Patricia MacCormack is Reader in English, Communication and Film at Anglia Ruskin Cambridge. She has published extensively on Continental Philosophy, the work of Deleuze and Guattari, Blanchot, Bataille and Irigaray, also on queer ethics, perversion, posthuman theory, body modification, occultism and extreme visceral horror film. She has appeared in a number of documentaries and dvd extras speaking on radicalisations of flesh and gore through aesthetic experiments in film. She has work in Queering the NonHuman, Deleuze and Law, AfterImage, Body and Society and many other volumes and journals. She is the author of Cinesexuality and the editor of The Schizoanalysis of Cinema.
Speaker(s):

Date and Time:

30 November 2010 at 6:00 pm

Duration:


2 hours 30 minutes

Venue:


The October Gallery
24 Old Gloucester St
London
WC1N 3AL
020 7242 7367
http://www.octobergallery.co.uk

More at The October Gallery...

Tickets:

£7 / £5 Concs. Pay on door

Available from:

Additional Information:

Arrive 6pm for a 6:30pm Start - Wine available

Please RSVP on Facebook - - (afraid so) so that we can anticipate numbers – Please pay on the door.
Register to tell a friend about this lecture.
Comments
If you would like to comment about this lecture, please register here.